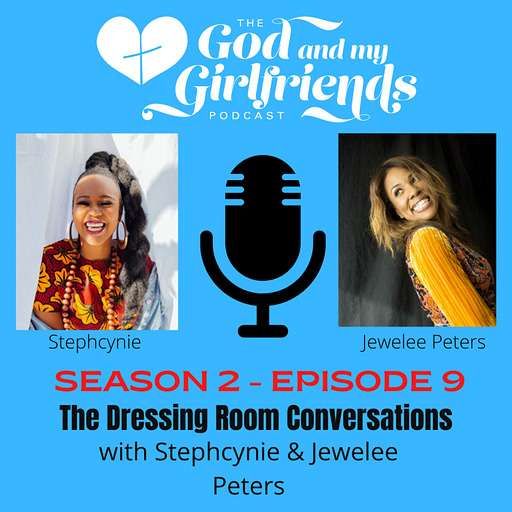 Nov 1, 2021 • 1HR 23M
Dressing Room Conversations w/Jewelee Peters and Stephcynie
Women are born nurturers, but they sometimes overlook nurturing the three most important relationships in their lives: their relationships with God, their girlfriends, and themselves. Join host Marcia Ramirez and her guests as they discuss ways to help enhance our spiritual lives, strengthen our friendships, and learn how to take better care of ourselves too!
You guys asked for it… so you got it!  This week on the God and My Girlfriends Podcast, you get to meet the girls I travel with on the road when I'm touring with Christopher Cross — Jewelee Peters and Stephcynie Curry (who goes professionally by just her first name, "Stephcynie")  We talk about music, friendship, self-care, spirituality — we cover a BUNCH of topics, we laugh a lot, and I think you'll find this whole conversation incredibly rich, deeply honest, very enlightening and endearing. 
So join me (Marcia Ramirez), Stephcynie and Jewelee for a very unique episode that gives you a little glimpse into life on the road and our nightly dressing room conversations. 
Links:
Stephcynie: 
Official website: https://www.stephcynie.com/
Instagram:  https://www.instagram.com/stephcynie/
Facebook:  https://www.facebook.com/Stephcynie
Twitter: https://twitter.com/stephcynie
TIkTok: https://www.tiktok.com/@stephcynie
YouTube: https://www.youtube.com/stephcynie
Jewelee:
Instagram: https://www.instagram.com/jeweleepeters/
Facebook: https://www.facebook.com/jeweleepetersmusic
Christopher Cross: https://www.christophercross.com/
Purposity: https://about.purposity.com/
God And My Girlfriends Ministries
A non-profit ministry helping women flourish in their relationships with God and others.