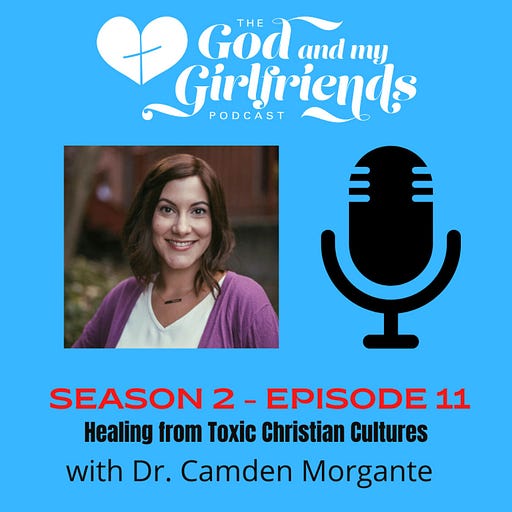 Nov 15, 2021 • 43M
Healing From Toxic Christian Cultures - w/Dr. Camden Morgante
Women are born nurturers, but they sometimes overlook nurturing the three most important relationships in their lives: their relationships with God, their girlfriends, and themselves. Join host Marcia Ramirez and her guests as they discuss ways to help enhance our spiritual lives, strengthen our friendships, and learn how to take better care of ourselves too!
 Growing up as an Evangelical Christian, I never could imagine that some of the teachings or theology that I was being taught could possible be harmful or damaging. As an adult, I see now that not all teachings are good, just because they might be labeled "Christian". Many Christian churches and communities have fostered toxic environments and now, there are many, many men and women trying to work through those teachings via some form of faith deconstruction.
When I started my own deconstruction, I didn't have trusted guides and the disorientation of it all almost cost me my faith entirely. Luckily, there are wonderful counselors, leaders, and coaches who are helping people walk through deconstruction so that they don't have to give up all the beliefs that have served them well.  
Our guest this week is Dr. Camden Morgante and she is one of those trusted voices that is helping many safely navigate the deconstruction of toxic Christian cultures. Join us this week and we talk about some of those harmful teachings.  
ABOUT OUR GUEST:
Dr. Camden Morgante is a licensed clinical psychologist and adjunct college professor.  She writes and speaks about Christianity, psychology, and gender equality and is a regular contributor to Christians for Biblical Equality's blog Mutuality. She is currently writing a book on the myths of purity culture. Camden also provides Coaching services for purity culture recovery, egalitarianism, and faith reconstruction. Camden lives in Knoxville, TN with her husband, their daughter and two rescue dogs.

Books Dr. Camden mentioned:
"The Making of Biblical Womanhood" - https://amzn.to/3CdI2Af

"Every Moment Holy" -- https://amzn.to/3Dh5cXB

"To Light Their Way" - https://amzn.to/3Du87g1

Other books helpful with deconstruction:

"Faith After Doubt" by Brian McLaren -- https://amzn.to/3n97O4h

"Faith Unraveled" by Rachel Held Evans -- https://amzn.to/3Fcc35k
God And My Girlfriends Ministries
A non-profit ministry helping women flourish in their relationships with God and others.